How to Delete your Jobberman Account/Profile

You've successfully created an Account/Profile with Jobberman achieved your dream

job, and now, if you wish to delete or suspend your account, we're here to guide you through the process.
You have the right to request the deletion of your personal data from our system or withdraw consent for processing your personal information. The process of removing or suspending your Job Seeker Profile on Jobberman is simple and seamless.
Here are the steps to follow:

1.
Begin by signing in to your Job Seeker Profile.

2.
Once you've successfully signed in, click on the profile icon then head over to the "Account Settings" section.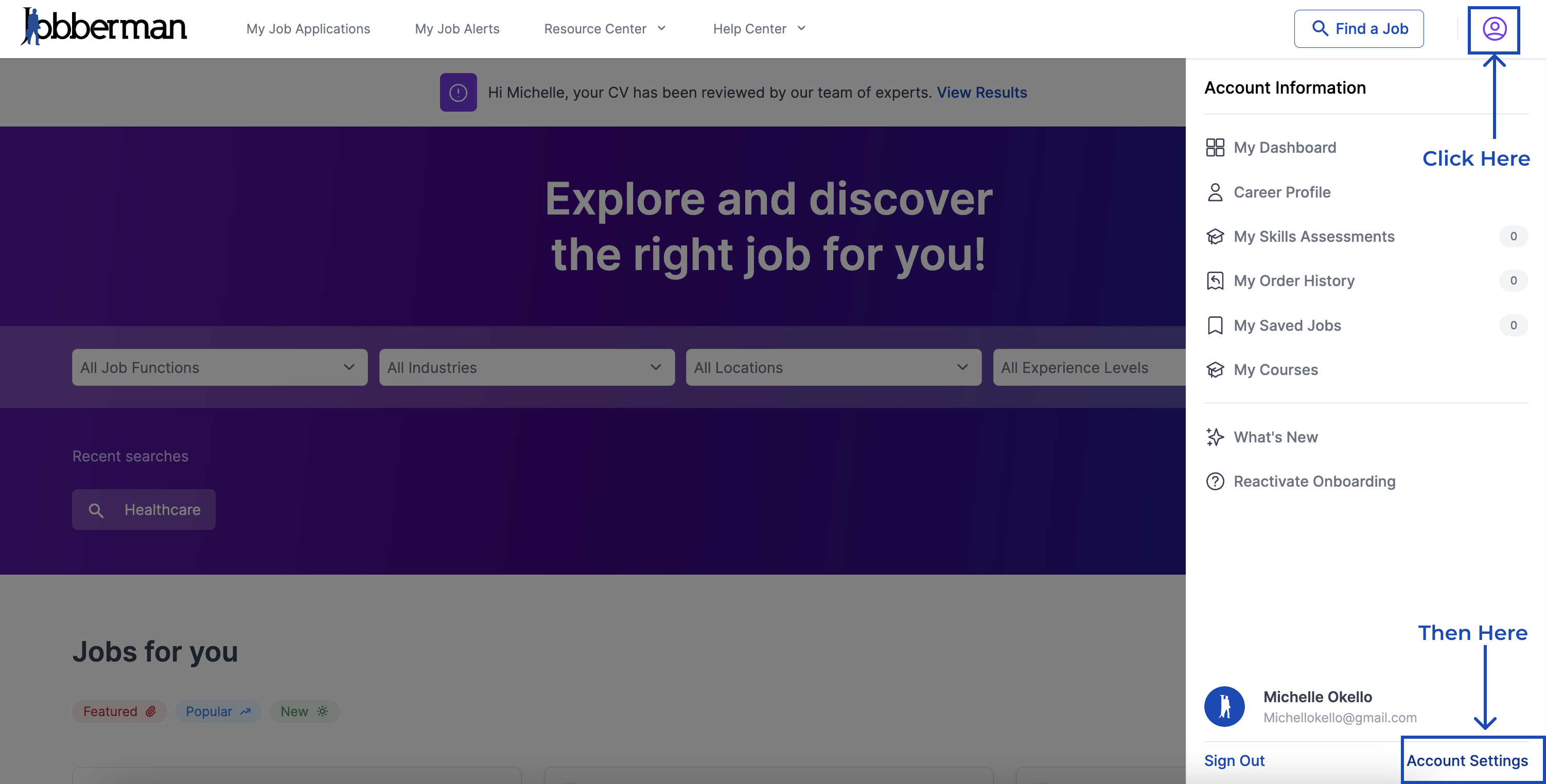 3. On the Account Settings page, Scroll down and click on the "Delete Account" option (refer to the image below for guidance).
Should you encounter any issues during this process, our dedicated support team is here to assist you. Don't hesitate to reach out to us at
support@jobberman.com
for prompt assistance.
We're committed to ensuring a smooth and user-friendly experience, and your data privacy is our priority. We're here to assist you every step of the way.
Related Articles

Export a copy of the Data in your Jobberman Profile

You've successfully created and updated your Jobberman Job Seeker account, and now you're interested in downloading a copy of your profile. We're here to guide you through this straightforward process. Downloading Your Job Seeker Profile on Jobberman ...

Updating Your Job Seeker Profile

You have finally created your Jobberman Job Seeker account, so what's next? Before you start applying for jobs, you should ensure that you profile is complete and this article will show you how to do that. There are 3 primary section of your profile ...

Creating A Job Seeker Profile

You've finally made the right decision of using Jobberman as your preferred recruitment portal to find your next opportunity. The next question is how do you get started ? This quick start guide will walk you through on the next few steps which are ...

The Jobberman Applicant Tracking System

Jobberman directs employers and recruiters using our website, with an Applicant Tracking System (ATS) which is a recruitment software that assists employers/recruiters to manage their recruiting and hiring process. With a click of a few buttons, an ...

All You Need to Know About the Job Listings on Jobberman

As your number 1 jobs platform, we seek to solve the major problem of the job seeker, which is not having enough jobs to apply for, we have thousands of jobs on our platform Frequently Asked Questions What is a recommended job vs other market jobs? ...